We met Helen through Connect Networking and soon realised she was the right lady for the job – the job being a fundraising Ball for Little Miracles.
Previously we had organised all our events ourselves and being a charity this was a drain on resources to say the least, Right from the outset Helen took control of all aspects and managed everything from ticket sales, advertising, programmes, entertainment, auction and raffle, food and venue and the dressing of venue. As you will see from the pictures it looked amazing, was a fantastic night, our largest event ever and Elite's mantra of "all you need to do is turn up and look fabulous" could not have been more true!
I would not hesitate to recommend Helen to manage and deliver your event. We are excited to see what she is going to do for us next year!
Michelle King | CEO Little Miracles
"Helen and Elite have organised and run very successful events for us, we have also attended events organised by her and they have always been of the highest quality. Her attention to detail is second to none and this is down to her meticulous planning, execution and leaving nothing to chance.
As an event planner Helen & Elite come highly recommended!
Helen has always done a superb job for us we asked her to help us manage a project for one of our businesses and yet again we underwent a meticulous planning session where we discussed, forecasts, immediate actions that needed to be undertaken, communications, processes, agreements, structures and we formulated a clear plan for moving the project forward with contingencies if targets aren't hit.
We would and do highly recommend Elite Events & Consultancy Ltd for any event planning, project management and consultancy needs you or your business have."
Jason & Tracey Yearwood |
Connect Business Networking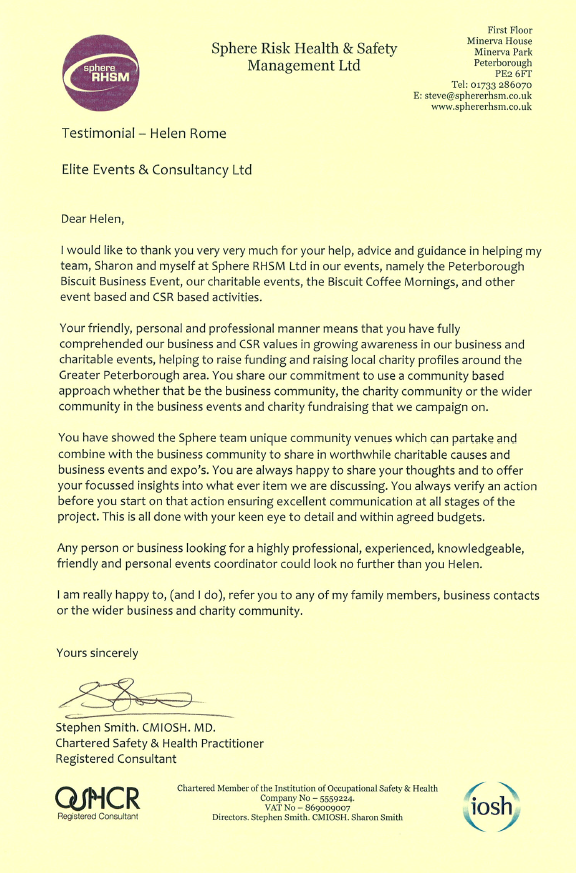 To Whom it may concern
I've known Helen Rome For 10 Years having dealt and worked with her very closely organising the Heal Event here at The Cresset every year which always looks amazing and is hosted very well by Helen.
Helen is a professional, pleasant, organised, amazing lady to know and I feel I have got to know her personally as well as on a business level. I think very highly of Helen and I would certainly recommend her to organise absolutely any event however small or large.
Alison Kinch | Event Sales Manager – The Cresset Peterborough
Helen is like a swan, calm and cool under pressure all the while peddling hard to get things done in the most profficient manner. I am keen to work with her again and can't recommend her company enough.
David Milligan | Chart Music Producer
What an awesome evening we had raising money for Little Miracles Charityorganised by Helen Rome of Elite Events ECL….
Helen you surpassed any high expectations we may have had and created a beautiful, fun filled evening with fabulous entertainment and food, the venue looked stunning as did everyone in their beautiful colourful attire!!
Well done darlin….
Anyone looking to hold an event speak to Helen because she is "simply the best" xxx
Tracey Yearwood, Connect Business Networking
A wonderful evening at the Bollywood Ball for Little Miracles Charity organised by the lovely Helen Rome.
Great fun, food, dancing and entertainment.Lovely to see all the gorgeous colours and attires.
Cathy George, Crafting Curries
Celebrate Event
8 months in the planning and with a lottery award of £10,000 The Christ Church Celebrate event was launched on Friday 4th August with a disco in church for local children… it was a fantastic evening and really set the scene for the whole weekend…food, fun and entertainment, free of charge and with love from CC
There had been a sense of excitement all week as the church and hall were gradually filled with equipment and all the things needed to put the event together – everything from gazebos to ironing boards, flowers to  fine china…the church was full.
Our helpers started unloading and shifting and carrying everything into the building for the 2 sites the event was to take place in – Christ Church Car Park and the Bluecoat field.
On Thursday morning the two marquees arrived one as a refreshments venue on CC car park and the other as a main stage on the BC field
20 large round tables and 200 chairs for the Bluecoat field and 10 small tables and 40 chairs for the car park, a large servery area was set up in the car park marquee where we served free tea and coffees, cold drinks, crisps, soup and rolls – — and nearly 400 beautiful homemade cakes, which were all donated by the church and local community!
The refreshments marquee was open all day Saturday.  Sunday from 11.30, and Monday until 1pm. There was also a kid's play area in the car park marquee and a serenity area for prayer and reflection.
We arrived very early on Saturday morning to put all the finishing touches together before the Mayor and Mayoress arrived at 10am to open the event by cutting the ribbon on the refreshments marquee for us. I then took the Mayor and his wife to see all the stalls and meet the stallholders on the Bluecoat field…
There were craft stalls and games for the children, face painting and a children's craft activity tent, a bouncy castle and football skills shot –  a crepary and food and drinks catering van, a church stall with free competitions and games, and meeting Bear our Prayer Dog! There was a Falconry display, on the field, demonstrations and family races, Ice creams, some local community service providers, live music and a talent competition… and St John's Ambulance making sure we all stayed safe!
On Saturday afternoon there was a tea dance in church which the Mayor and Mayoress attended. The church looked lovely with beautifully dressed tables with fine china and delicate sandwiches and delicious cakes presented in afternoon tea style, everyone that came said they really enjoyed the afternoon tea dance which was also free of charge.
We had an open-air cafe service on Sunday morning, The Bishop of Grimsby Bishop David Court and his wife came to join us, the sun was shining, there was live music from Christ Church worship band, a great message from the Bishop, and breakfast pastries, bacon rolls and teas and coffees for 120 people after the service – again all free of charge.
The Bishop also cut our Celebrate cake back in the refreshment marquee, and then the day continued with sunshine and a great atmosphere of welcome for everyone.
Sunday evening the Bluecoat field was dissembled – Monday morning we continued with refreshments in the car park marquee and the children's craft stall moved across to join us.
At CC we already have a number of community-based projects, a day centre, a community car scheme, Teenzone, Startafresh, Tots n Toast, and then there is Sunday Crunch come for lunch and lots more besides…
The lottery fund was for us to celebrate our community:  Christ Church parish, which is on the northern edge of the town.  It also gave us an opportunity to ask people in this part of the town what would like us to do, what sort of event? We sent out questionnaires to the whole of the parish. In response, we have done what the community asked for…
Over this weekend we have also been gathering information as to how we can continue to serve our local community –perhaps in ways that we have not thought of, and how the community might like to get involved in helping us shape the future.
This event has been remarkable in delivering to our parish something that the lottery has given back to the community…
But we have also had so much local help and support, particularly Jason Hardstaff and Morrisons Stamford, all the people who have given their time to bake cakes and lend us equipment, the church family and friends who have helped shift and carry, set up and take down gazebos, the staff team, our wardens, Martin Purnell our Operations manager at Christ Church.  My husband Tony. The Mayor and his wife, the Bishop of Grimsby, Stamford Mercury and Rutland Radio, Bluecoat Primary School –  you have all been so generous, and we thank you all for helping us to make Celebrate! happen, and thank you to everyone who came!
This whole event would not have happened without the dedication, attention to detail, hard work, knowledge and passion of our Event Manager Helen Rome.  Helen caught our vision for the event from the outset and delivered an outstanding event that was on budget to the penny!
Everyone at Christ Church is incredibly grateful to Helen for the way she went above and beyond any of our expectations.
Helen is already helping us with another project to review our financial systems and processes through a Lloyds bank Enable review.
We commend Helen to you and your project with total confidence.
Revd Nikki Bates | Vicar of Christ Church Stamford.
Helen is the supreme professional in Event Management. 
From the moment one engages Helen to undertake a project, it matters not the size, complexity or challenge, consider it down!  It will be delivered on time, on budget, with great creativity, flair, fun!
Helen has a vast network of contacts whom she engages appropriately to deliver what is required. 
Helen's attitude is that everything has a solution, nothing is too large, or too small, it will be delivered.    
I can say that after we at Christ Church community engaged Helen to deliver a Celebrate! event within our community over a weekend, that we found Helen to be such a warm person to work with who brought to us her amazing creativity, organisation and planning skills, with great communication skills, oh and her fun, keeping in touch at every stage of the project. 
In my humble opinion, you would do well to engage her!
Martin Purnell | Operations Manager Christ Church Stamford
Helen has project managed the Heal UK Annual Charity event for the past 10 years.
She has managed the complete event from branding, printing, catering and entertainment through to major fundraising activities such as a charity auction. Helen has also acted as MC on the evening and made several presentations on behalf of the HEAL Board.  Helens attention to detail and her dedicated commitment are key to this highly successful event. I would not hesitate recommending Helen to anyone needing an effective, efficient and well organised event.
Carl Brodie | Chairman Heal UK
Helen has worked on a number of projects with us, many diverse in range, and she has proved to be an invaluable help each time. Her professionalism and attention to detail is second to none, and she never fails to go above and beyond all that is asked of her. Coupled with an astute business accumin, Helen is not only able to lend her exceptional organisational skills to project management and Health and Safety but she is also able to provide extra insight and valuable expertise in business dealings and contracts. I cannot highly recommend her enough to manage and oversee any project. 
Fabio Dandrea – Director | Trinity Entertainment Media Limited
I've known Helen Rome For 10 Years having dealt and worked with her very closely organising the Heal Event here at The Cresset every year which always looks amazing and is hosted very well by Helen.
Helen is a professional, pleasant, organised, amazing lady to know and I feel I have got to know her personally as well as on a business level. I think very highly of Helen and I would certainly recommend her to organise absolutely any event however small or large.
Alison Kinch | Event Sales Manager – The Cresset Peterborough
I had the privilege of working with Helen Rome on several music video productions with her acting as co producer. It was a complete pleasure.
Helen is the epitome of professional in every sense of the word. From coming in on the productions under budget, to dealing with demanding celebrities all the way through to logistical safety issues, Helen has dealt with everything beautifully. Helen is like a swan, calm and cool under pressure all the while peddling hard to get things done in the most proficient manner. I am keen to work with her again and can't recommend her company enough
David Milligan | Chart Music Producer
Everything you need for the perfect event
Aldo Marra | Michelin Star Chef