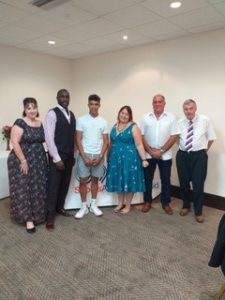 We recently received a phone call from the SportsAid Peterborough Committee. This is a brilliant local charity that runs 4 lunchtime events a year, each with a well-known sports celebrity speaker. We have been supplying SportsAid Peterborough with hampers for their raffle at each event and these have been going down extremely well.
We have supplied wine and cheese hampers, as well as pamper hampers. Each time SportsAid Peterborough confirms the style of hamper they would like and we do the rest for them.
Last week the committee called us and asked if we would like to join the SportsAid Peterborough committee. Of course, we jumped at the chance!
We will be Event Organisers for the Sports Aid Peterborough Sports Club Lunch. This will involve communicating with guests at the event and finding out about dietary requirements that they have. In the run up to the event we will be communicating with the venue to confirm numbers and any special requirements.
On the day we will display the table plan that we have created. We will also lay out the name tags. From the moment the guests arrive they will be greeted warmly by the committee, they will be able to see where their table is and where they are sitting.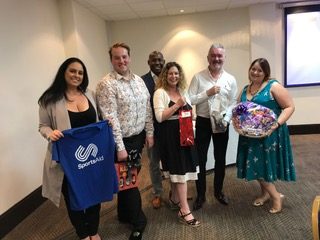 The great thing about Elite Events is that we can organise a whole event for you, like we did with Little Miracles and the Bollywood Ball. We can also step in and work as part of a team, like we are doing with Small Business Awards Peterborough, and with SportsAid Peterborough.
If you are looking at organising a charity event and want help with planning it, or you are planning an event and need some help in the run up or on the day then why not give us a call? Whatever you need and for however much work you need us, you only need to ask.
We can also work to most budgets so feel free to tell us what your event budget is and we can create an event package that suits your need.
If you'd like to know more about the upcoming Peterborough Sports Club lunches with speakers Derek Redmond and Peter Shilton then please contact me directly. I would be happy to book you a seat for £35 or a table of 10 for £300.