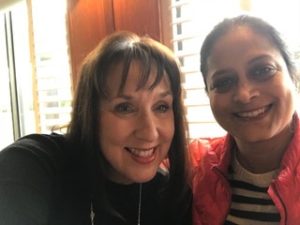 We have recently been talking a lot about the larger events we are involved in, such as the Small Business Awards, Peterborough Biscuit, Little Miracles Bollywood Ball and similar. However, we also work with clients on smaller events too. In fact we are currently working with the fabulous Cathy of Crafting Curries on a pop-up restaurant/supper club idea that could take Peterborough by storm!
Cathy of Crafting Curries recently worked alongside Lee Clarke of Pre Vost in Peterborough. They ran a themed dining event together and it was extremely successful. In fact it was even featured as a hugely successful event by the local press and media in Peterborough.
Cathy has decided that she now wants to take this pop up restaurant experience to the next level. She felt she had the perfect venue for it, but she wanted to make sure the space worked. So she called in the experts, in the form of our event organisers in Peterborough.
We met Cathy at her beautiful home in Peterborough and she showed us where she would like to run her next pop up event; in her garden. As experienced garden event organisers in Peterborough we felt that her garden was a dream. It is a stunning and spacious garden that comes off her kitchen. There are beautiful plants and flowers around her garden and we can easily see how we can ensure this event will be perfect.
Our meeting with Cathy ensured that we understood all of her requirements.  We know this event is going to be a huge success and we are so honoured to be part of that and are excited to see what she will do next.
As the garden event organisers in Peterborough we will be in charge or hiring all the table furniture and crockery and will be there helping dress the space to ensure that everything is perfect on the night. This will leave Cathy and her team to focus on what she is good at; creating incredible food! We will be on hand to ensure the event runs smoothly with no hiccups and that everyone, including Cathy, has a great time.
If you need help organising a garden event in Peterborough or surrounding areas then please contact us directly. We look forward to hearing your plans and how you would like us to help.